6 Great Pubs In St James's
You will find yourself several great pubs in St James's, London. Being of a compact area means that the pubs in St James's are within a short walk of each other making for a perfect leisurely pub crawl of limited crawling.
Bordered by Piccadilly, Green Park, The Mall and Haymarket St. James's is an exclusive area a stones throw from Buckingham Palace. Whilst this exclusive part of London is home to many fine restaurants, a few grand West End theatres, art dealers, Christie's auction house, Fortnum & Mason, Gentleman's clubs and the upmarket and exclusive tailors and accessory stores of Jermyn Street's you will still find some great authentic, local and quirky pubs in St James's that a very well worth a visit.
A favourite non pub in the area is Paxton & Whitfield at 93 Jermyn Street which is said to be one of the oldest cheese shops in England. It is said that when Prime Minister Winston Churchill would often walk on his own up from the House of Parliament to Paxton & Whitfield to buy his lunch. Churchill did once observe that "a gentleman only buys his cheese at Paxton & Whitfield".
Below is our take of what we here at Londons Pubs, believe are the Best Pubs in St James's, London. We hope you enjoy the read about pubs in St James's. If you do then please leave us comment in the comments section below this blog post or email us via our contact form.
The 50 Greatest Pubs in London: Colour Edition
2 Duke of York St, St James's, London SW1Y 6JP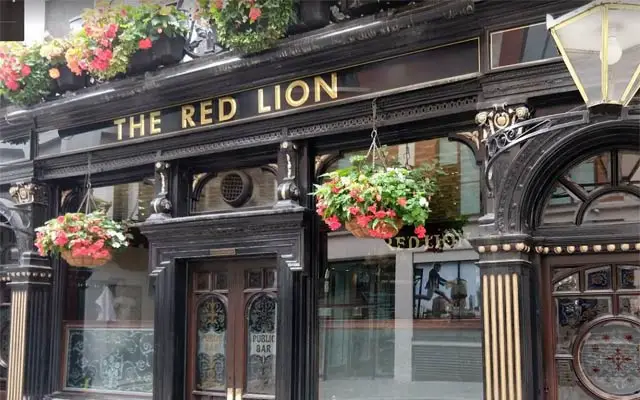 The Red Lion, Mayfair is a not to be missed pub in St James's. A former editor of the Architectural Review described the Red Lion, Mayfair as "a perfect example of a small Victorian Gin Palace at its best". Originally licensed in 1788 it was rebuilt under the watchful eye of architect WH Rawlings in 1872.
One of two Red Lion named pubs in St James's this Red Lion has become known as the Red Lion, Mayfair but should not be confused with the old Mayfair Red Lion that used to be on the Mayfair side of Piccadilly in Waverton Street that was sadly redeveloped into a luxury home. Boo Westminster planning people!
Other than for a pint or two the other big reason to visit the Grade II listed Red Lion, Mayfair is for its fantastic and magical interior. Set around the island bar the walls are adorn with original and marvellous etched and cut decorative mirrors encased in polished mahogany. 
The Red Lion, Mayfair is part of Fuller's so you will find the usual array of Fuller's cask ales and other offerings available. For a small pub it is good to see a full menu offered at lunchtime along with a reasonable offering of food throughout the afternoon. No TV so there is little to distract you from enjoyable beer and food.
If you feel the need to spruce yourself up prior to enjoying this stunning little example of a Victorian pub then you will find the famous Geo F Trumper's right next door. However, if the day is nice outside and there is a good imperial stout of hoppy IPA on then I find zipping around the corner to Paxton & Whitfield for a wedge of Stilton the perfect afternoon on the footpath. 
Check out the
 The Red Lion, Mayfair
 via their social links below:
19 Babmaes St, St. James's, London SW1Y 6HD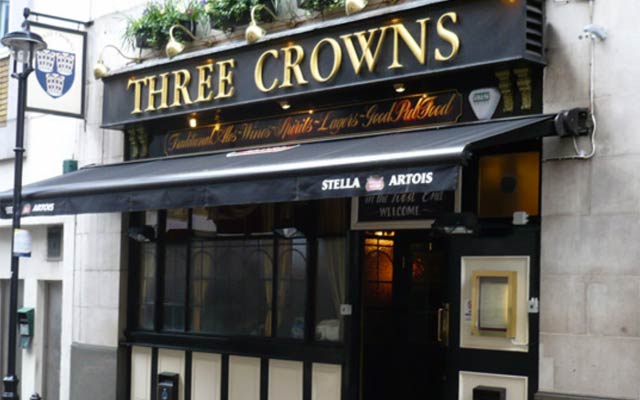 The Three Crowns is another enjoyable pint size pub in St James's. Just one block from the Red Lion, Mayfair The Three Crowns is a Greene King operated pub in St James's that is well worthy of a visit. The Three Crowns date back to 1932 when the office block that it sits within was developed.
Being a Greene King pub you will always find Greene King IPA and Taylor Walker 1730 available along with 3 or so changing beers from the pumps. They offer a good, comprehensive menu that has never let us down and often gets good reviews. TV is available for all of your sporting needs.
At the time of writing, they are doing something a little different where you can grab yourself a 5 litre mini keg of Ice Breaker IPA for £30. So, with a friend or two to help consume you can limit your need to head back and forth to the bar for a few rounds.
All in all the Three Crowns is well worth a visit when in the St James's area.
Check out the Three Crowns via their social links below:
23 Crown Passage, St. James's, London SW1Y 6PP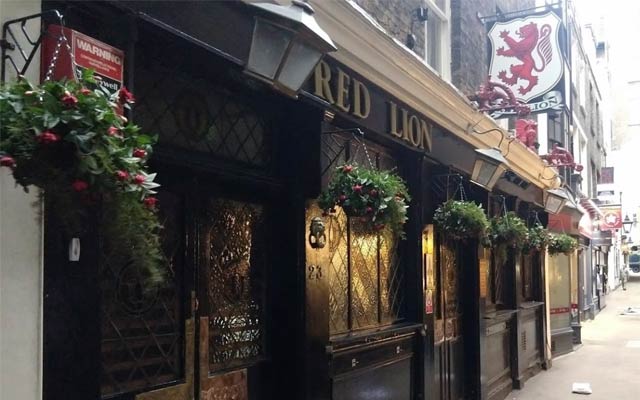 The Red Lion (the other Red Lion) hides away just a stone's throw away from St James's Palace in Crown Passage. Crown Passage runs between Pall Mall and King Street. No more than 1 minute on foot from Clarence House this could easily be the local of Prince Charles. Seriously it has been alleged that the Red Lion has seen visits from the likes of Henry VIII, Charles II, Edward VIII and even, as the previous occupant of Clarence House, the Queen Mum herself. Legend has that the Red Lion was another meeting place for Charles II and his famous orange seller come actress mistress the famous Nell Gwyn.
Every time I enter the Red Lion I feel as though I am stepping into somebody's front room. Once inside it has a cosy and warm feel with timber panelled walls and lead light windows. It is one of those pubs that you wish to tell everyone about but equally nobody about as to keep it to yourself. 
The cosy front room like ground level has TV for sports but you should you wish to avoid this there is the tranquillity of the upstairs lounge. I have been to the Red Lion many times but all I can tell you from my own experience is that to drink they always have an excellent pint of St Austell's Tribute. There is a second pump, but I have never gone past the Tribute. The Red Lion has a great range of Gin and some very fine Whiskies. Cold bar snacks are available.
The lovely historical Red Lion in Crown Passage is another pub in St James's that is well worth a visit.
Check out the Red Lion via their social links below:
16 Duke St, St. James's, London SW1Y 6DB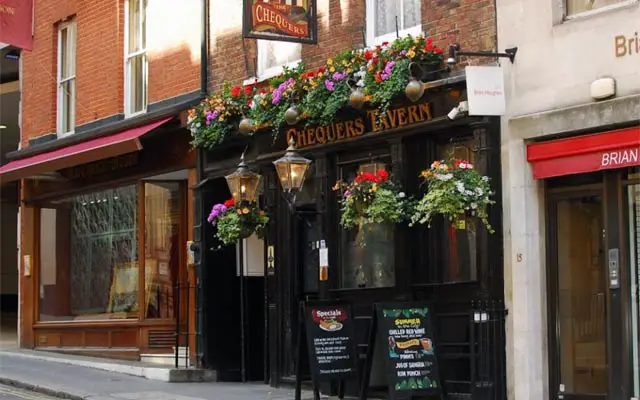 Chequers Tavern is described by people as quirky, proper old school pub, village pub, old world and down to earth. For what is said to be one of the oldest pubs in St James's these descriptions are all true. Sitting somewhat at the other end of the spectrum from the upmarket tailors and gentleman's clubs in the neighbourhood makes Chequers Tavern unique to the area and hence a great pub in St James's to visit. Originally known as the Mason's Arms due to its then owner Henry Mason it has been known as Chequers Tavern since 1751.
Four pumps issuing a good range of ales where you would often find standards like London Pride, Doom Bar and Rev James. A comprehensive and well reviewed menu follows most of what you would expect to find in a warm and welcoming pub like the Chequers Tavern. Prices are probably some of the best in the area. The cosy indoor seating is now complemented by a recently added outdoor are in Mason's Yard.
Check out the Cheuqers Tavern via their links below:
25 King St, St. James's, London SW1Y 6QY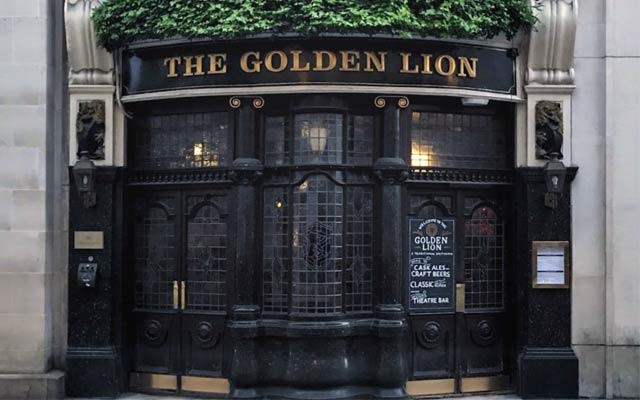 You would never hear someone say that the frontage of the Golden Lion lacks grandeur. Whilst it may be a rather narrow pub the imitation Jacobean Baroque front exterior that greets you is certainly grand. Sitting on King Street it is not far from the entry to Crown Passage and the Red Lion.
The Golden Lion is laid out over two levels. Bar as expected on the ground floor and an upstairs theatre bar and dining room. Back around the mid 1800's the St James's Theatre was right next door to the Golden Lion, and it is believed that the upstairs Theatre Bar was connect directly to the Circle of the theatre. In 1957 the theatre was demolished but the pub still stands.
The Golden Lion is part of the Greene King chain so expect the usual Greene King offerings along with several changing guests on the pumps. Meals from their comprehensive menu are server throughout most of the day. There is a nice little outdoor seating area to one side of the pub that is both overed and heated on those chilly days you still would like some outdoor time.
Check out the Golden Lion via their links below:
The Admiralty, Trafalgar Square
66 Trafalgar Square, St. James's, London WC2N 5DS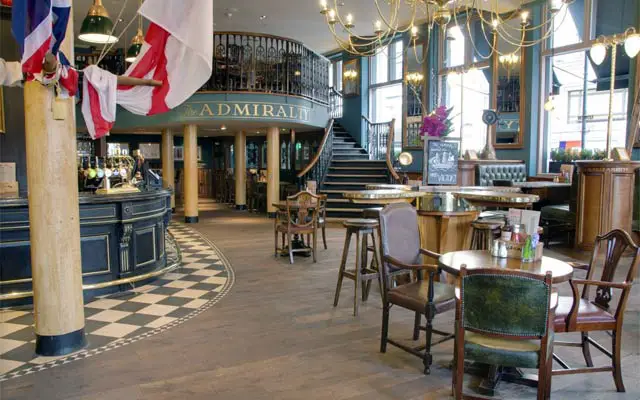 There is nothing old, quant or small feeling about the rather spectacular Admiralty, Trafalgar Square. It is big, bold, and even though it opened on Trafalgar Day 2014 it still somehow feels brand new every time you walk in. Sitting directly across the road from Trafalgar Square it just makes it within the confines of St James's. Being only 50 metres from the King Charles I statue that all distances from London are measured, the Admiralty is London's most central pub.
The large and open ground level, known as the Gundeck bar, is loosely based on the lower gundeck of the HMS Victory. It offers informal seating along with some semi private booth seating. Heading upstairs you will find an area that is mainly handed over for the use of dining. To drink you will find the usual choice of the Fuller's cask ale range plus the occasional guest along with several crafts ales and lagers. 
Food at the Admiralty normal kicks of with breakfast from 9am (10am of Sunday) but if you want that with a pint you will have to wait until 10am. The Admiralty is one of Fuller's Ale & Pie format pubs so along with the usually expected menu you get some pretty good pies. I often peruse the menu from top to bottom then always go for the 3 pie & 3 ale taster. Best choice for those that cannot decide but as long as you are keen on ale and pie.
My choice of pub will always be the smaller, quirky, original and authentic with locals and characters all of which is not the Admiralty. But I have often found myself enjoying my ales and pies looking out across the street to Trafalgar Square and contently watching the world go by hence I find the Admiralty another worthy stop amongst the pubs in St James's.
Check out the the The Admiralty, Trafalgar Square via their links below:
Map of Pubs In St James's, London
Best Pubs In St James's, London Wrap-Up
Anyway, there you have it, that's our take on the Best Pubs in St James's.
What are your favourite places to drink and dine in the St James's area? Let us know in the comments below.
Anyway folks we hope you enjoyed this blog about Pubs in St James's and thanks for joining us on this LondonsPubs.com journey. Stay Safe, Stay Happy, Enjoy Life!
Today's Quote, due to his relation with the area of St James's, comes from Winston Churchill: "Always remember that I have taken more out of alcohol than alcohol has taken out of me."
Amazon Services LLC Associates Program
We are an affiliate in the Amazon program. As an affiliate, we earn from qualified purchases via links we place throughout our website. Purchases through our website cost you, the consumer, no more than if you had found the products directly on Amazon. However any purchases made through our website means we may receive a very small commission from Amazon for referring the sale. We also participate in other affiliate advertising programs to earn advertising revenue by linking to different websites.