6 Great Pubs In Fitzrovia
When it comes to pubs in Fitzrovia you are very well spoilt for choice. Fitzrovia is home to many highly enjoyable pubs. If you had to choose one street to remain in for the rest of your years then I would not look to further than Rathbone Street, Fitzrovia. Probably could have just written this post about great pubs of Rathbone Street 😉
Situated to the north of the London West End, Fitzrovia is another compact London area that sees part of it fall within the Borough of Camden and part within the City of Westminster. It is bordered roughly by Oxford Street to the south, the Euston Road to the north, Gower Street to the east and Great Portland Street to the west.
An area settled since back around AD 1000 it is believed that the name Fitzrovia comes from either Fitzroy Square or the Fitzroy Tavern at the corner of Charlotte and Windmill Streets. These days the area of Fitzrovia is dominated by one of London's tallest buildings, the BT Tower on Cleveland Street.
Below is our take of what we here at Londons Pubs, believe are the Best Pubs in Fitzrovia, London. We hope you enjoy the read and If you do then please leave us a comment in the section below this blog post or email us via our contact form.
The 50 Greatest Pubs in London: Colour Edition
23 Rathbone St, Fitzrovia, London W1T 1NG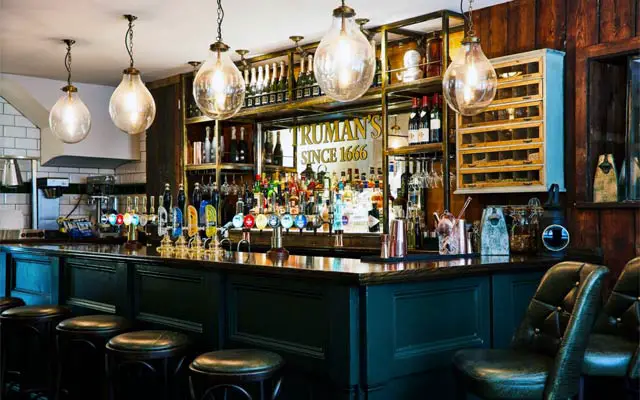 Prior to opening as a pub in 1860 what is now the Newman Arms had a fair list of uses from iron monger, candle maker to brothel. The Newman Arms is famous for several things. As a pub it became famous for its traditional English pies. Apart from beer and pies it became a favourite of George Orwell and it is believed the Newman Arms to have been the model for the "Proles Arms" in Orwell's novel 1984.
For the 20 or so years to mid 2015 the Newman Arms was successfully run by the mother/daughter team of Tracey and Amber Bird. May of 2018 saw it reopen after a extensive renovation under the management of Truman's Brewery as their first London based Tap House. An increase in the number of draught lines means you have a choice of the Truman Brewery range with 4 cask ales and 12 keg beers available.
Fortunately, pies have remained a specialty of the Newman along with a more extensive menu including great salt beef or smoked salmon bagels making a visit to the Newman Arms great pub in Fitzrovia for both drinks and food.
47 Rathbone St, Fitzrovia, London W1T 1NW
Originally licensed in 1767 but rebuilt in 1897 you will find the popular Duke of York at the northern end of Rathbone Street. Back in 2014 the Duke of York of today gave his permission that the pub could use his likeness on the pub signage. It would seem that The Duke of York is possibly the only pub known to feature the likeness of a present member of the Royal Family. It is often mentioned in reviews that maybe a change to a former Duke of York is in order 😕
It is also widely believed that the novelist Anthony Burgess used the experience his wife had at the Duke of York with a razor gang in 1943 in his novel Clockwork Orange.
The Duke of York is a well reviewed pub with 2 levels indoors along with some outdoor area along the footpaths. You will usually find more than a reasonable choice on pump and tap along with a good and enjoyable lunchtime and evening meals.
Check out the Duke of York via their social link; Facebook.
68-70 Whitfield St, Fitzrovia, London W1T 4EY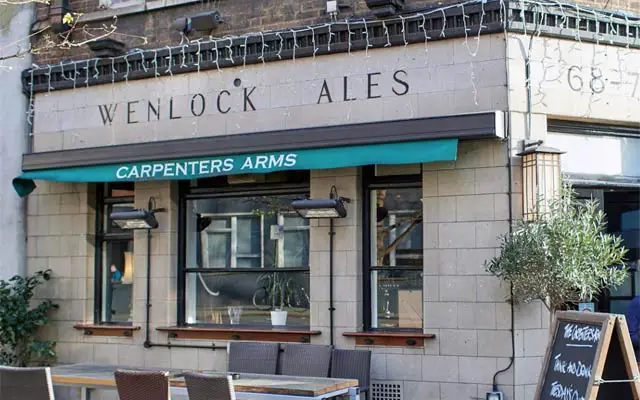 As mentioned in a londonspubs.com Instagram post the Carpenters Arms in Fitzrovia's Whitfield Street, "…has delivered some of the most memorable Sunday roast lunches ever enjoyed". Has never disappointed me or others who have joined me. I hope that you have enjoyed similar at the Carpenters.
It is believed that a licensed premise has been on this site since around 1776 however what you see today is the former Wenlock Brewery pub from 1938. Wenlock Brewery dates back to the 1800's and was based in Wenlock Road. Wenlock was acquired by Worthington & Co under Bass, Ratcliff & Gretton in the 1950's but closed in 1962.
The Carpenters Arms offers a good selection of drinks along with a very good selection of food. The ground level has two separate bar areas, one more bar like and the other with a more restaurant feel. Both areas have an inviting and nice friendly feel to them. There is seating outside which is great on a nice day. Plus, there is a great little outdoor beer garden area on the first floor.
Good tip is to sign up to their newsletter as they send out some particularly good offers. If find yourself looking for a pub in Fitzrovia (or nearby St James) and you have not already, do yourself a favour and drop in for a pint or two and a feed at the Carpenters Arms.
Check out the The Carpenters Arms via their social links; Website, Facebook and Instagram.
42-44 Hanway St, Fitzrovia, London W1T 1UT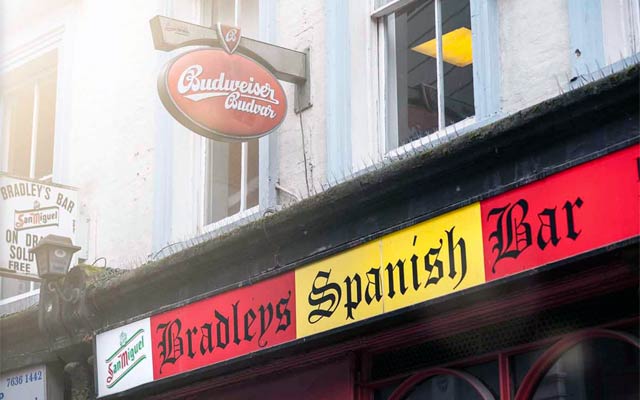 Can hear some now saying, "Bradleys Spanish Bar? It is not a pub!". Well, tuff. It serves beer (sadly no real ale), and it is a must visit pub in Fitzrovia. So, here it is the great and famous
Bradleys Spanish Bar. For me, the thing I always think when stepping in to Bradleys is that Bradley is not the most Spanish of names.
Along with a good array of wines and spirts you will find yourself a few good Spanish lagers to choose from as well as the likes of Meantime IPA or Brewdog Punk IPA. Whilst the food offerings consist of crisps, nuts or both crisps and nuts this is a bar that offers you all-you-can-eat atmosphere. Their own words of, "…where you might walk in alone but will always leave with new friends" is so true from my every visit.
Set over two levels there is a bar at street level and another on the first floor. First floor comes with an impressive old school jukebox with, I am led to believe, an everchanging 3000+ 7" 45's covering decades of music.
Great place to visit anytime for any reason but love one online review where a guy states that Bradleys is the place to head for a good time if your lady is off on spending spree up Oxford Street.
Check out the Bradley's Spanish Bar via their links; Website, Facebook and Instagram.
2 Rathbone St, Fitzrovia, London W1T 1NR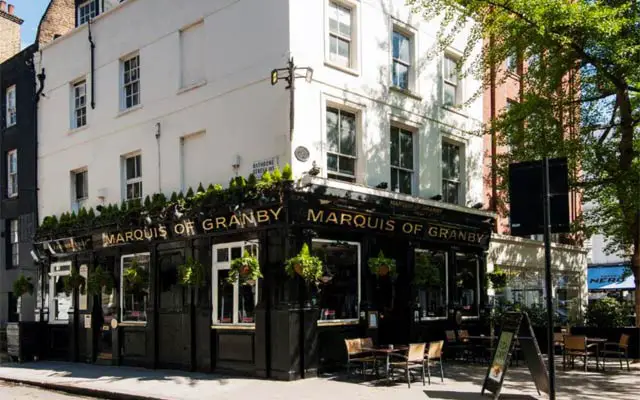 The Marquis of Granby is so named as the original licensed premises opened here in 1766 was built with a £200 advance from John Manners, the then Marquis of Granby. Supposedly he has more pubs named after him than any other person as he setup many an old soldier from his regiment as publicans when they were too old to serve. The pub that we enjoy there today was built in 1897.
The Marquis of Granby is under the ownership of Nicholson's so for ales you will often find the likes of Doom Bar, St Austell Nicholson's Pale Ale along with the comprehensive and more than adequate Nicholson's menu.
Some years back the pubs patrons were made up of the literary high brows and the gangland lowlife, during the 1930's it saw the likes of Dylan Thomas and TS Eliot as regulars but these days this remarkably busy pub sees a healthy mix of local Fitzrovians, office workers and tourists. Large footpath area out front sees a busy place when the weather is good. A worthy
stop as you make your way around Fitzrovia. 
Check out the Marquis of Granby via their link; Website.
25 Rathbone Pl, Fitzrovia, London W1T 1JB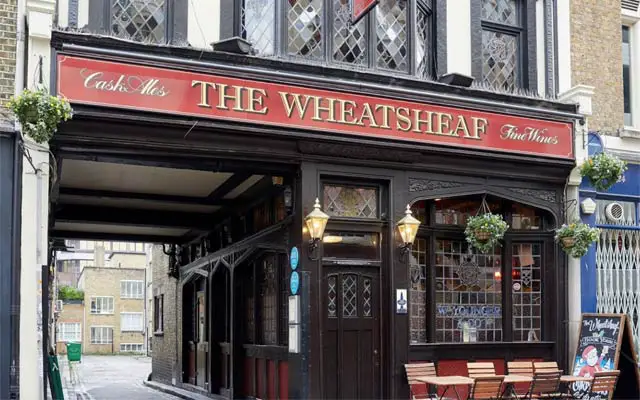 To be honest, many years back, during my first few visits to the Wheatsheaf I did think it was an original Tudor coach inn. I had visions of it back in its day with horses and coaches coming and going via the wee lane that sits beside the pub's front door. Was about the third visit that I found that this mock Tudor pub was built in the 1930's. Sadly not the historical treasure I thought but still a cracker of a pub to visit that sits only 2 minutes walk from the hustle and bustle of Oxford Street.
The Wheatsheaf has been the local to writers such Dylan Thomas and Anthony Burgers. Hard to confirm but the world of the Intergoogles tells us that George Orwell once threw up over the Wheatsheaf's bar. With its Saturday night comedy club, it has witnessed the start of career for many including Jo Brand and Russell Brand.
The Tudor like exterior is continued inside with much wood panelling and plenty of stained glass. Does not come with a huge selection on pump and taps but you will always find something you will enjoy. Menu is pub style with more than enough to choose from and meals have always been enjoyed. The Wheatsheaf is another worthwhile visit of the pubs in Fitzrovia.
Check out The Wheatsheaf via their links; Website and Facebook.
Best Pubs In Fitzrovia, London Wrap-Up
Anyway, there you have it, that's our take on the Best Pubs in Fitzrovia.
What are your favourite places to drink and dine in the Fitzrovia area? Let us know in the comments below.
Anyway folks we hope you enjoyed this blog about Pubs in Fitzrovia and thanks for joining us on this LondonsPubs.com journey. 
Stay Safe, Stay Happy, Enjoy Life!
Today's Quote comes from Frank Zappa: "You can't be a real country unless you have a beer and an airline – it helps if you have some kind of football team, or some nuclear weapons, but in the very least you need a beer."
Amazon Services LLC Associates Program
We are an affiliate in the Amazon program. As an affiliate, we earn from qualified purchases via links we place throughout our website. Purchases through our website cost you, the consumer, no more than if you had found the products directly on Amazon. However any purchases made through our website means we may receive a very small commission from Amazon for referring the sale. We also participate in other affiliate advertising programs to earn advertising revenue by linking to different websites.