6 Great Pubs in Kings Cross, London
There are many great pubs in Kings Cross that are well worth visiting. Kings Cross, London has a chequered history dating back before Roman times. Dominated by the mainline stations of Kings Cross and St Pancras it has several good pubs in Kings Cross to enjoy a pint or two.
Kings Cross is the rather small area made up of the mainline rail stations of Kings Cross and St Pancras that fit within Euston Road, Midland Road and York Way plus the newly redeveloped area to the north of the stations.
Since the early 2000's Kings Cross has seen one of the largest redevelopments in London with a 67-acre site gaining some 50 new buildings, 1,900 new homes, 20 new streets and 10 new public parks and squares.
Below is our take of what we here at Londons Pubs, believe are the Best Pubs in Kings Cross area. For those of you that are strict about borders we are apologise that some of the pubs we list are actually "across the road" from Kings Cross.
We hope you enjoy the read about pubs in Kings Cross. If you do then please leave us comment in the comments section below this blog post or email us via our contact form.
The 50 Greatest Pubs in London: Colour Edition
The Parcel Yard, Kings Cross
Kings Cross Station, London N1C 4AH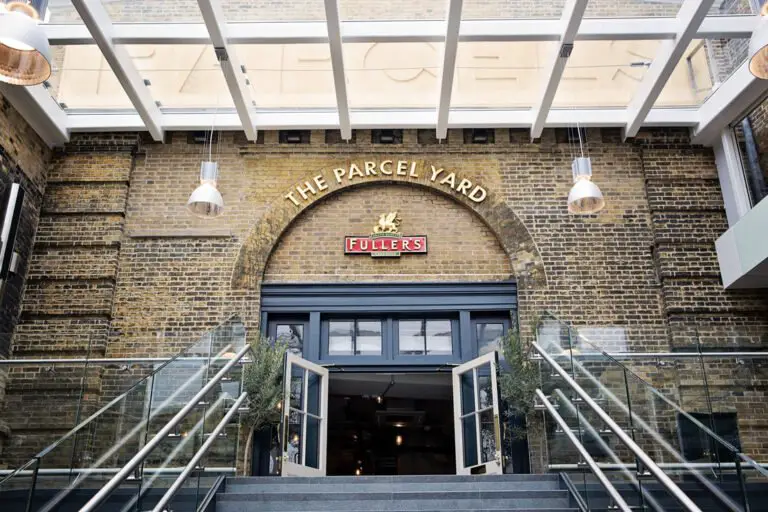 For our first pub in Kings Cross let us start of inside Kings Cross Station. One great thing about travel is that it is widely accepted that a drink (or drinks) before departure, on arrival or whilst seeing off or waiting for friends is more than ok. Some would say it is a necessary part of the travel process.
A perfect place to keep up this travel tradition is The Parcel Yard. Found on two upper levels adjacent to Kings Cross station's and Harry Potter's famous Platform 9 and 3/4.
Many would agree that most railway station pubs are pretty ordinary but the The Parcel Yard within a converted industrial space bucks this old and tired trend. Split into different zones it offers plenty of options to sit, sip, enjoy and ponder. Very convenient addition is that a number of tables have power outlets should your phone also require a fill, or you are required to do a spot of work whilst enjoying a pint.
The Parcel Yard is a full Fuller's pub meaning that you will often find the entire Fuller's range of cask beers and most of their bottled beers. Fortunately, now that also often includes excellent Dark Star offerings like Hophead and American IPA. Also offered is a comprehensive wine list along with those other sometimes required niceties like a morning recovery bloody mary or a refreshing G&T on warm day.
You will also find the adequate Fuller's food menu including the enjoyable pie of the day on offer every day.
Check out the The Parcel Yard, Kings Cross Station via their social links below:
126 York Way, London N1 OAX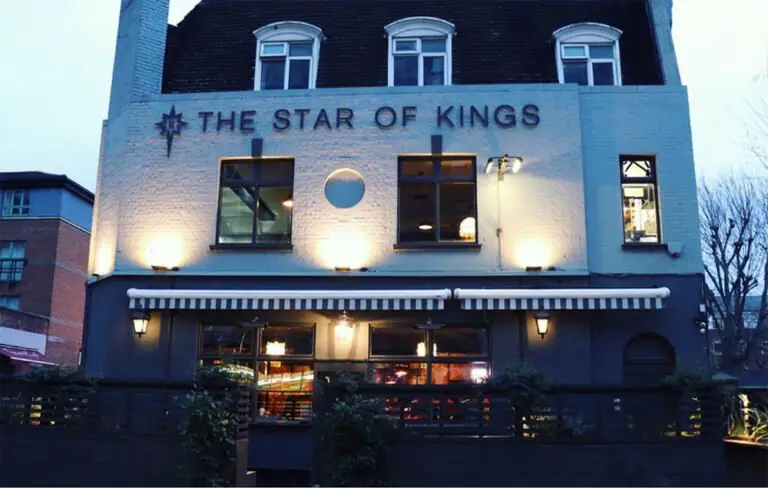 Who remembers the early 90's and heading to The Backpackers on a Sunday after "The Church"? For some of us back then it was possibly the only of the pubs in Kings Cross we really knew. Well for those that do, late 2010 saw the opening of the Star of Kings in what was the old Backpackers pub.
The Star of Kings is easily found by taking a leisurely 5 minute stroll down York Way from Kings Cross Station. Close enought to the station but also far enough away. With basement, ground, front beer garden and 1st floor there is plenty of different areas to explore and room for not just a great bar but also areas that in the evening you can find the likes of  bands, comedians, big name DJs and of course a quiz night. However, no ale 🙁
At the Star of Kings they run a guest kitchen that has seen some of the great London food traders in residence over the years. At the time of writing the amazing Burger Bear Tom has the kitchen. Burger Bear is in its own right a reason to visit the Star of Kings as soon as you can. If you have not enjoyed Burger Bear Tom's Bacon Jam your life has a large piece of happiness missing!
Have you ever wished at the end of a pub session you could simply curl up for the night in the pub? Well at the Star of Kings you can do just that. Prior booking is needed of course but on the top floor of the pub the have an apartment available via airbnb! Take that last pint with you to bed.
Check out the Star of Kings via their social links below:
55-57 Northdown St, Kings Cross, London N1 9BL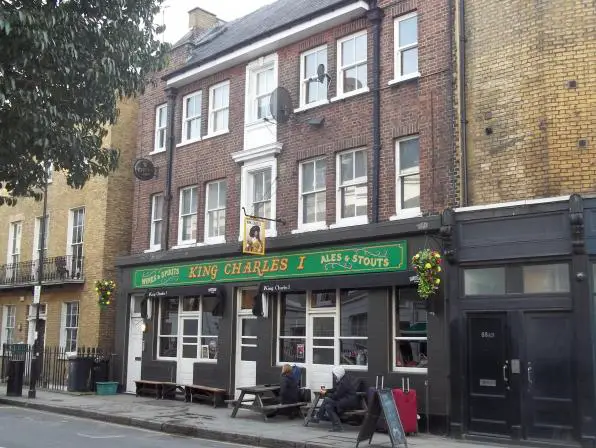 In 2015 the King Charles I was subject to a community buyout of the 20-year lease with shareholders comprised of a collection of local residents and people with a strong connection with this pub. Awesome to find a community owned pub amongst the pubs in Kings Cross!
Situated far enough away from Kings Cross station to avoid mass tourism the King Charles I is a pub firmly established in the London music scene with blues, folk and indi music. it is a wood-panelled pint-sized pub, serving real ales and bar snacks plus, for those winter visits, it has a beautiful fireplace.
Completely free of tie means that the pub enjoys four rotating ales sourced both locally and as far away as the Cotswolds.
Recent reviews include; "Cosy little place, friendly staff and clientele; dogs and toddlers mingled too.", "Small, atmospheric pub with quirky decor and a good selection of beers." and "A hidden gem – old school boozer with well kept real ale at sensible prices."
Hidden gem, off the beaten track, proper old school pub, free of tie, friendly, good music … I'll race you to the King Charles I, first one there chooses the pint, last one there pays
1-5 Whidborne St, London WC1H 8ET
McGlynn's Free House is an Irish pub located in a quiet back street in the Kings Cross area within a short walk of Kings Cross and St Pancras stations.
Arriving at McGlynn's you will find some outside tables along the footpath whilst inside there is a bar area and separate restaurant. Whilst they offer well reviewed home cooked style meals the menu is only served Monday to Friday at lunchtime and again in the evening.
One thing that many people love about McGlynn's is the addition of a pub cat.
If you are a fan of a quiet, friendly pub to whittle away some hours enjoying a few drinks and a meal then McGlynn's is well worth popping into.
Check out McGlynn's Free House via their links below:
6 Caledonian Rd, London N1 9DU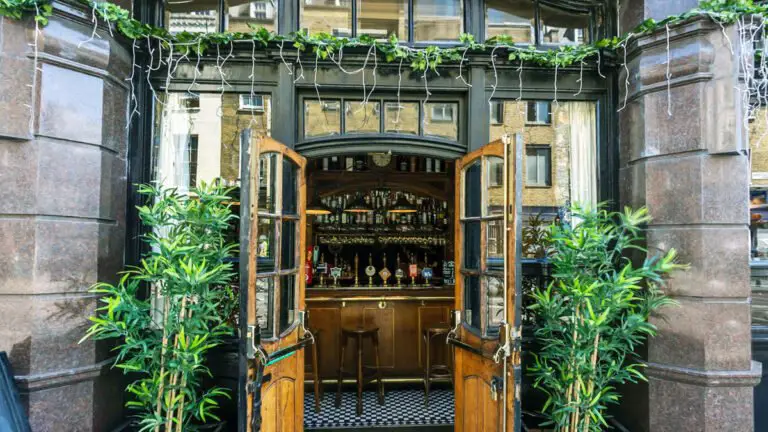 The Scottish Stores is just off the Pentonville Road on the Caledonian Road a block away from Kings Cross station. The Scottish Stores opened back in 1901 as an inn and took its name from the traders from Scotland who were frequent visitors off the train at Kings Cross.
Winning the 2020 Greater London Enterprise Awards 'Best Independent Bar in London' is a huge turnaround from once being the recipient of the award for London's worst pub. During the 80's it was a popular pub where amongst others the band the 'The Pogues' were regulars. However, it fell into disrepair becoming a rather dodgy strip bar. Since 2015 its wonderful Grade II listed interior has been fully restored to its former glory winning CAMRA's National Pub Design Awards top prize in the Conservation category making The Scottish Stores a great addition to the pubs in Kings Cross.
Eight hand pumps usually offer a good selection of Ales and maybe one Cider. Alongside the pumps you will find 6 lines of your regular keg offerings. Aside of that you will find another 6 line 'craft corner'. With that number of taps pointed towards an empty pint glass you will be hard up not to find something that takes your fancy. That would usually mean this is not a one pint stop.
Check out the The Scottish Stores via their links below:
114 Judd St, London WC1H 9NT
The Skinners Arms is another great local option that is near to Kings Cross and St Pancras Stations but far enough away to avoid the hustle and bustle you usually find with the stations and the Euston Road.
The Skinners Arms takes its name from the trade that thrived in the cattle markets and tanneries that used to be in and around the Kings Cross area many centuries ago.
Today the pub offers a lovingly cared for traditional pub interior with a quiet friendly ambience. A reasonable selection is available on pump and tap. For those days of nice weather there is outside seating along the footpath and for those cold days there is a real fire indoors.
A pretty extensive menu is offered for snacks and meals at lunchtime and dinner.
Check out The Skinners Arms via their social links below:
Map of Pubs In Kings Cross, London
Best Pubs In Kings Cross, London
Anyway, there you have it, that's our take on the Best Pubs in Kings Cross.
What are your favourite places to drink and dine in the Kings Cross area? Let us know in the comments below.
And by the way…Fitzrovia is nearby if you want to check out some other similar pubs!
There will no doubt be disagreements as to which of these establishments are actually pubs in Kings Cross but they are all worth a visit to see for yourself.
Anyway folks we hope you enjoyed this blog about Pubs in Kings Cross and thanks for joining us on this LondonsPubs.com journey.
Stay Safe, Stay Happy, Enjoy Life!
Today's Quote comes from Tina Fey: "In a study, scientists report that drinking beer can be good for the liver. I'm sorry, did I say 'scientists'? I meant Irish people."
Amazon Services LLC Associates Program
We are an affiliate in the Amazon program. As an affiliate, we earn from qualified purchases via links we place throughout our website. Purchases through our website cost you, the consumer, no more than if you had found the products directly on Amazon. However any purchases made through our website means we may receive a very small commission from Amazon for referring the sale. We also participate in other affiliate advertising programs to earn advertising revenue by linking to different websites.