Biggest Pub in London | There can be only ONE!
Biggest Pub in London! The Porterhouse in Covent Garden is MASSIVE!
There are a few contenders for Biggest Pub in London but The Porterhouse in Covent Garden, in Londons Pubs opinion, is still king of this particular hill.
From beer garden to basement, the Porterhouse is laid out over three main levels but incredibly, there are another 9 split-levels within the establishment, meaning the entire place, in reality, is set out over an impressive twelve levels.
The entrance to The Porterhouse is via Maiden Lane in Covent Garden, where you'll first note its expansive outdoor area. In itself, this popular people-watching patio would be in line to compete for the biggest beer garden in downtown central London.
At first glance at the building's actual façade, you really can't imagine its interior sporting the biggest pub in Londons Covent Garden, let alone vying for the mantle of Biggest Pub in London.
Amazingly, in central London where real estate prices are astronomical, The Porterhouse building occupies a quarter of a city block and stretches almost halfway back towards The Strand to the south. There are apartments and offices above the Porterhouse once again, giving the building the look of just a normal-sized pub. But looks can be deceiving and this city block itself, actually slopes downhill towards The Strand.  Because of this gradient, to enter the Porterhouse you actually have to go downstairs which feels odd and sort of out of perspective to expectations.
However, once inside, one gets an expansive view of the space and can only be impressed by the very obvious copper piping and ducting throughout which lends to the feel of this being an actual brewery, even though it's not.
Despite the interior being huge, it's clever layout means you can still find intimate corners to socialise with smaller groups of friends whilst still having access to the larger area showcased by the large central bar.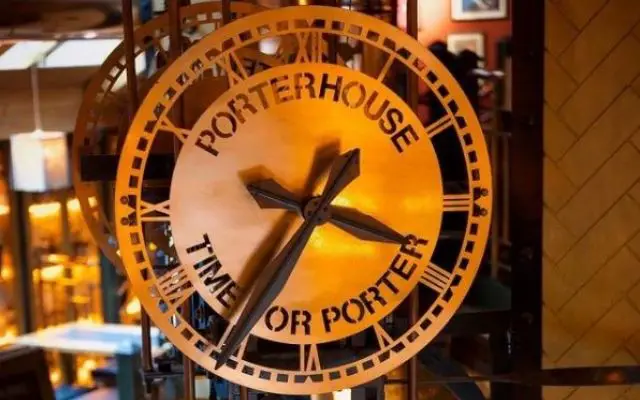 Biggest Irish Pub in London
Not only is the Porterhouse our pick for the Biggest Pub in London but, by association, it definitely has the title of Biggest Irish Pub in London as it's owners, the Porterhouse Brew Company are based in Ireland so it's a double whammy.
Almost all of the beer available on tap in the Porterhouse is shipped to London from their Glasnevin Brewery located in the northern suburbs of Dublin.
The Porterhouse though is not an Irish Pub as you would imagine with Irish flags everywhere, shamrocks on the walls and Irish music piped throughout, rather this particular Irish Pub has built its reputation on simply providing the public with expertly crafted beer.
And they certainly do this very well indeed.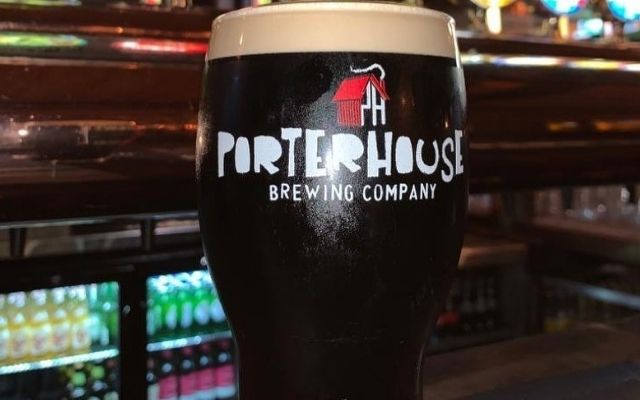 All the draught beers are Porterhouse branded own stock (from Dublin) as is normal in any brewery owned pub. But these guys ALSO have guest taps that showcase other great beers not only from the UK but from Europe and indeed, the rest of the world.
Atop of this they do also have a couple of hand pumps if cask ales are more to your liking.
Seriously, if you cannot find a beer to drink that you like in the biggest pub in London, then quite frankly – you're too fussy!
And before you ask, YES, the Porterhouse does serve its own Porter, and it's awesome!
Biggest Pub in London: Other Contenders!
The Worlds End in Camden – North London
This North London institution has been servicing the eclectic mix of people that are attracted by the artisan aspects of Camden for longer than anyone can remember.
It's a large 1000 person capacity space with a lofty interior and surprisingly similar brass finishings to the Porterhouse with its prominent brass beer vats and bar taps.
The pub also has an underground club aptly named The Underworld and with another 500 person capacity this really adds to the overall size of The Worlds End albeit in reality, in two separate venues.
BrewDog Tower Hill
This relatively new entry into London's burgeoning craft beer market opened in mid-2018. 
The guys from Brew Dog have called this their
OUTPOST
and its vast length and the fact that it doubles as a small batch brewery certainly explains why.
How good is the games room where you can drink excellent beer whilst playing shuffleboard or video games?
How to Get to Londons Biggest Pub: The Porterhouse
Travelling by Tube: The closest London Underground tube stations are Covent Garden, Charing Cross and Leicester Square with the Porterhouse being no more than a rive minute walk from any of these train stations. These stations cover the Bakerloo, Picadilly and Northern lines.
Travelling by Overground Train: Charing Cross is the closest of the overground London train network.
Travelling by Bus: Plenty of Transport for London buses traverse The Strand, look for bus numbers 6, 9, 26, 91, 139, 172 and 176
Check out The Porterhouse via their social links below:
So should you for any reason find yourself on the hunt to find the Biggest Pub in London look no further than The Porterhouse in Covent Garden.
And if you're in central London visiting the Porterhouse, you may as well check out the nearby Pubs in St James. But if your more of a historical pub buff then just five minutes walk to the opposite side of Covent Garden near Holborn you'll find The Ship Tavern.
Today's aptly Irish inspired quote comes from thespian and comedian Tina Fey, "In a study, scientists report that drinking beer can be good for the liver. I'm sorry, did I say 'scientists'? I meant Irish people."
Checkout Londons Pubs on Instagram