West Hampstead Pubs | The Complete Guide
Finding Pubs in West Hampstead to visit is actually surprisingly easy. And, as luck would have it, West Hampstead is also home to some fantastic independent bars that make it a great destination for socialising. The quality of establishments here has improved dramatically over the years so sourcing a suitable place to enjoy a drink with friends in this part of leafy London is now definitely a pleasure, where once it seemed more of a chore!
West Hampstead is quite a lively little corner of North West London, and its proximity and excellent commuter links to central London means that it's become a bit of a go-to location for those looking for something a little more relaxed than you might find in the City of London itself.
Apart from some great Pubs in West Hampstead it's fantastic to note that the local council in Co-Operation with the West Hampstead Business Association are very pro-active in promoting all the hospitality and retail venues in the area. The pubs and bars here never appear to be filled to capacity but there is nevertheless always a bustling exciting sort of a vibe to the suburb.
West Hampstead has always attracted an artistic sort of demographic with plenty of writers, actors and musicians making their homes here. Well-known English celebrities who call West Hampstead home include the likes of Emma Thompson, Robert Webb and Bill Nighy, and it would certainly come as no surprise to spot any of these guys out at one of the local pubs.
We very much hope you enjoy our take on the Best Bas and Best Pubs in West Hampstead so without further ado let's crack on!
.
Around the Tube in 80 Pubs | A guide to some of the BEST Pubs in London
Black Lion West Hampstead
295-297 West End Lane, West Hampstead, London, NW6 1RD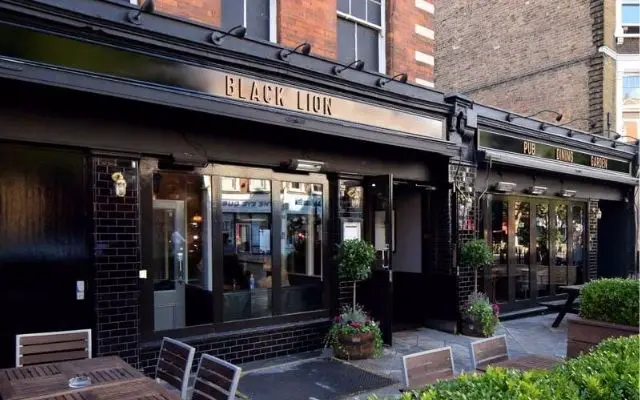 Having morphed from what was once a full-on sports orientated bar into its current form of a friendly and comfortable gastro pub, West Hampstead's Black Lion has certainly come full-circle.
Whilst still a Greene King Pub the establishment now falls under Greene King's Metropolitan Pub Company Brand and which seems to have given the pub a bit more free reign in terms of the food and drinks on offer and also in the design and layout of the place. This has noticeably improved the overall feel of the pub which is especially noticeable when visiting as part of a group as there are now different facets of the venue that will appeal to all types of people from all walks of life.
We love the large beer garden out the back of the pub which is split levelled and soaks up the sun's rays right until sunset. The street front drinking area is also a winner and a great relaxed place for celebrity spotting.
Despite its black exterior the interior is warm, bright and well illuminated with some cool funky lighting which perfectly complements the modern décor. We love that there are low tables with small stools, high tables with large stools, sofa's, booths and different types of chairs. The mix of different types of seating doesn't at all feel disjointed, rather it adds to the place's charm.
The food is highly regarded modern British, and whilst the regular beer seems to be Greene King IPA (not our favourite), their changing ale pumps have enough variety to please. As there are also numerous chilled tap options including lagers, pale ales and ciders you'll easily find a drink to suit your taste here.
A London Pub for Every Occasion | 161 Tried and Tested Pubs
The Railway West Hampstead
100 West End Lane, West Hampstead, London, NW6 2LU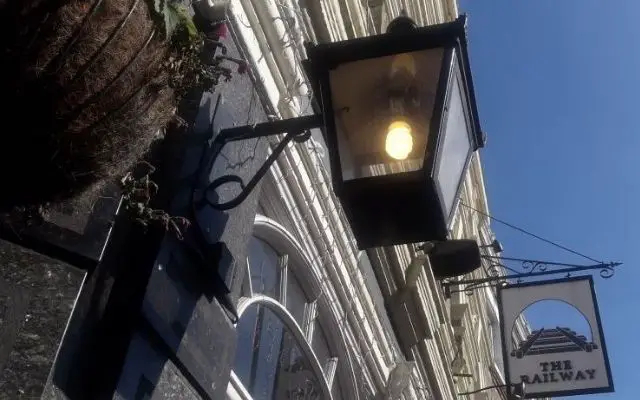 This place hasn't always been a pub.
Once upon a time, The Railway West Hampstead was actually be THE place to go to see live music and the venue was perhaps instrumental (no pun intended) in putting some unknown musical artists on the road to super-stardom. The upstairs function room of the pub saw early performances from The Rolling Stones, Jimi Hendrix and Cream to name but a few, and it was actually the very first venue that U2 ever played outside of Ireland!
However, by delving into the building's past history we digress a little here especially as nowadays it's a pub, and pubs are what this website is about so let continue.
The Railway in West Hampstead was totally refitted about four or five years ago taking it from what was quite a dated establishment to much more modern version of the local pub. The white-tiled bar is the focal point of the room and the very impressive (and huge) Chesterfield style sofa has to be seen to be believed.
It is another Greene King pub which again sadly means Greene King IPA but they do have another few hand pumps as well as a super cold tap selection and there is always the ever reliable Guinness to fall back on.
The venue holds lots of different events such as a themed Oktoberfest and St Patrick's Day celebrations and they also have regular quizzes and even the occasional karaoke night. This is definitely one of the Best Pubs in West Hampstead to watch big sporting events and football matches on their TV's in the bar area but even during the biggest games The Railway West Hampstead never gets that "lads" feel about it which is great.
Delectable modern British food presented exceptionally well is what greets the diner at the Railway, and their desserts are raved about by the locals, so if you have a sweet tooth you'll definitely want to pay a visit to this little corner of West Hampstead.
Check out The Railway Pub in West Hampstead on their contacts and social accounts below:
Phone: +44 (0) 207 6247611
Website: The Railway
Facebook: @TheRailwayWestHampstead
Twitter: @TheRailwayNW6
Google: The Railwayone of the Best
The Alliance West Hampstead
100 West End Lane, West Hampstead, London, NW6 2LU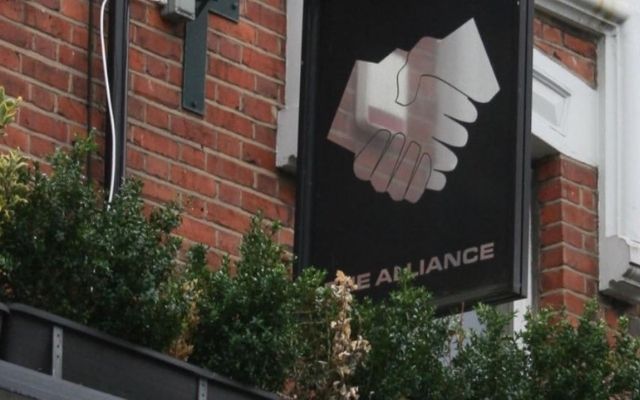 If you love cats as we do, then you should definitely drop into The Alliance West Hampstead just to meet Spike, the pubs beautifully coloured grey and white tabby. Strange to note that this dog friendly pub has such a famous house cat but there you go.
And there we go, digressing again.
This Alliance West Hampstead has a warm community feel about it, and local artists and photographers are often invited to adorn the walls with their works. There are weekly quiz events and the obligatory Sunday Roasts and the pub also has regular sports on the TV's although it doesn't feel at all like a sporting bar as such.
Being a smaller venue it doesn't mean there are cramped spaces and louder crowds here, indeed if anything, it makes The Alliance have much more of a cosy feel about it.  
As Pubs in West Hampstead go, this particular pub has the best range of hand pump ales in West Hampstead as well as several other chilled taps. One recent patron actually described The Alliance as having the Best Guinness in London – Hands Down! Unfortunately we can't vouch for individual reviews but what we can say for certainty is that when we visited, the Guinness was indeed excellent.
Their menu is British inspired and is perfectly concise with quality offerings so you won't be bombarded by too many options that would ultimately make it difficult to decide what to eat.
And if all this doesn't convince you to visit this back street pub that is the Alliance West Hampstead, then don't forget there's always Spike the Cat (sorry we had to mention him a second time).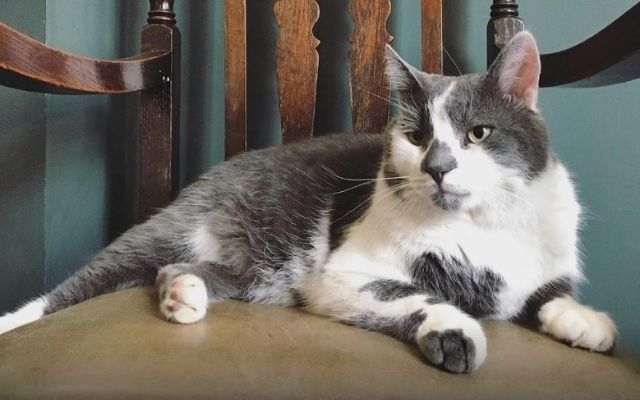 The Londons Pubs team is not averse to checking out some funky places from time to time and we understand that not all our readers enjoy a proper London Boozer like we do.
And maybe not everyone drinks beer either! Heck even we sometimes enjoy a wine (a bottle usually) or a cocktail….but shhh, don't tell anyone though please, we do have a reputation after all.
So it's only right to include some of the Best Bars in West Hampstead as part of our locality narrative. And don't worry beer lovers, at all of these venues you'll definitely be able to find a good pint (or bottle or can).
Heads and Tails West Hampstead
175 West End Lane, West Hampstead, London, NW6 2 LH
A couple of years ago the people behind Heads and Tails decided West Hampstead was the perfect location for their new venture and the local populace has been thanking their lucky stars ever since. West Hampstead has been ready and crying out for a place like this for years.
The upstairs part of the bar is Heads – a light filled space serving uncompromisingly good cocktails comprised of lighter spirits and low or even no alcohol varieties. The room is long and light filled in colours of turquoise, creams and light browns. There is a fantastic drinking garden at the rear of the establishment which is a very comfortable place for a few drinks in the sun.
Downstairs their alter ego of Tails is a darker room serving the best darker spirit and stronger alcohol cocktails in West London. The décor here is chocolate-inspired with a much lower level of lighting giving it a surprisingly warm and intimate feeling.
There are only a few beers to choose from here if you're not a cocktail fan but as with all facets of the bar, these guys have gone for quality first. You'll never find flavoured waters like Fosters or Carlsberg here just craft beer at its best. And, surprise, surprise for North West London, Guinness!
Heads and Tails keeps their drinks menu simple and so it is with their food offerings where snacks and a few small plates are on offer. The bars emphasis is on great drinks, which they do exceptionally well, and the food available absolutely seems the perfect accompaniment!
Check out Heads and Tails Bar in West Hampstead on their contacts and social accounts below:

Phone: +44 (0) 7926 968335
Website: headsandtails.bar
Facebook: Heads + Tails
Instagram: headsandtailsnw
Google: Heads + Tails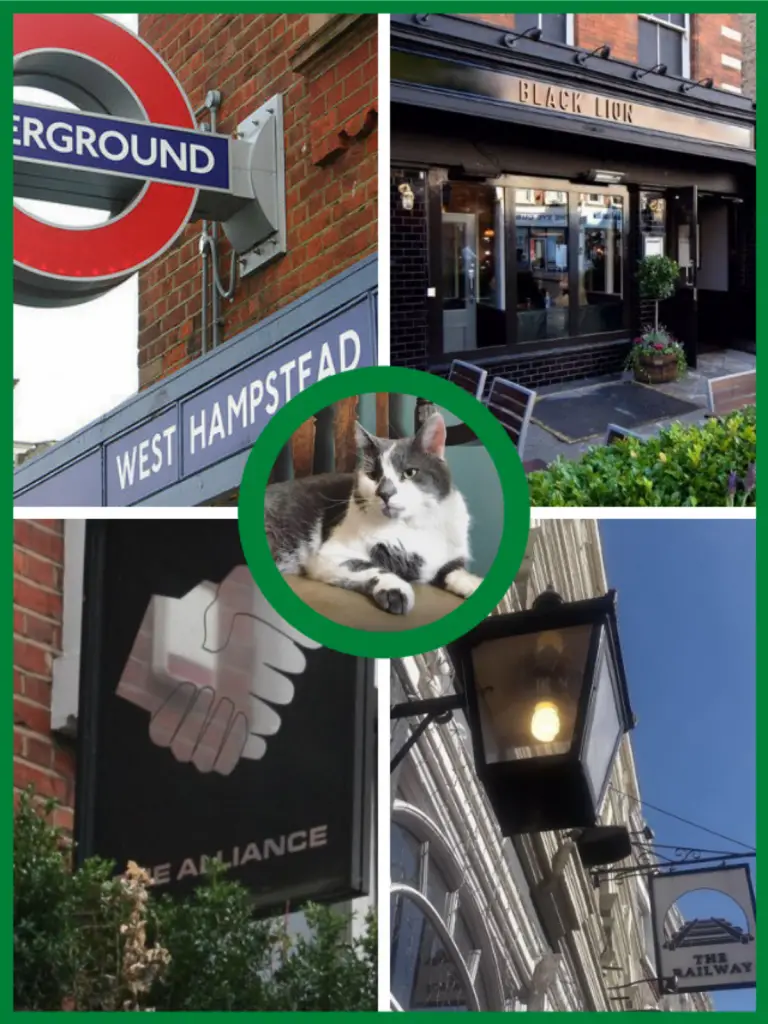 Pubs in West Hampstead from the Londons Pubs team. We've found the Best Pubs in West Hampstead as well as other awesome places to meet-up and socialise.
watch the story »
The Alice House West Hamsptead
283-285 West End Lane, West Hampstead, London, NW6 1RD
Should this be on our list of Pubs in West Hampstead or is this actually Bar? We've debated which category The Alice House in West Hampstead should fall into ourselves but the reality is that it definitely feels like both.
On a corner plot of the main road in West Hampstead the Alice House has large windows and bi-fold doors making the indoor space very light.
Their street-fronted beer garden is quite large and always seems full (in the warmer weather) and the interior whilst smallish is friendly and unfussy. There are stings of naked lightbulbs about the ceiling giving the place a surreal feeling of being in a huge spider's web. And whilst that may sound negative, it very much works the opposite.
In fact, this is a place we'd be happy to be trapped.
With a strong emphasis on local produce that's reflected through their food menu and a fantastic support of English micro-breweries, the quality of food and drink available here is of the highest order.
This place gets real busy on Friday and Saturday evenings where the vibe is energetic to say the least.
All-in-All, The Alice House West Hampstead is one of the best upmarket gastro styled pubs in North West London. Few contemporaries live up to the quality served up by this establishment and it's really only rivalled by its own namesake in nearby Queens Park.
Check out The Alice House in West Hampstead on their contacts and social accounts below:
Phone: +44 (0) 20 7431 8818
Website: thealicehouse.co.uk
Instagram: alicehousewh
Google: Alice House West Hampstead
How To Get To West Hampstead
West Hampstead is serviced by the London Overground and by Transport for Londons Underground and Bus services.
The Jubilee Line on the London Underground is the fastest way to West Hampstead from London taking only around 15 minutes. Thameslink – the London Overland service operator, has trains running from London St Pancras International LL to West Hampstead every 10 minutes.
Alternatively, London Buses operate the 139 Bus service from Charing Cross and Trafalgar Square through to West Hampstead and onward to Golders Green also every 10 minutes or so. There's also the 338 service that runs through West Hampstead on its Chelsea to Golders Green route.
A train will cost around £5 from central London, a bus around £3 and a taxi will set you back about £20.
Best Pubs and Bars in West Hampstead | Map Locations
Finding your way to the most popular Pubs in West Hampstead is easy when you utilise our specialty Google Map below. The map was created to ensure it was easily shareable – simply click the share button to send to your friends.
Best Pubs West Hampstead | Our View
Being so close to the City of London, West Hampstead is a very easy destination to get to as it's only a very short commute from central London by public transport. For the Londons Pubs readers out there who fancy long strolls, the walk from the city through Regents Park and onto West Hampstead is a very pleasant way to get to this area also.
Having lived close to West Hampstead for many years the Londons Pubs team can definitely recommend the area, not only for its wonderful pubs but for its variety of restaurants, the small vendor family shops and the leafy outlook of the suburb. Whilst we haven't visited any Pubs in West Hampstead since the Covid-19 Outbreak we are really looking forward to returning there soon.
There are actually quite a few more pubs and bars in West Hampstead that we've not mentioned and some are indeed worthy of a visit but in this short blog we did not have time to feature them all. We may write another piece at some point in the future or perhaps add to this list.
If you are staying in North West London or perhaps you've moved there permanently, then it might pay for you to also check out our posts on Pubs in Willesden Green or Pubs in Kensal Rise for other nearby options.
Have you ever visited the area and frequented any of the Pubs in West Hampstead yourself? If so we'd love to know your thoughts in regards to your search for a quality venue in the area!
Thanks once again for joining us on this LondonsPubs.com journey and for checking out our blog detailing our never ending quest to find the perfect pint.
Stay Safe, Stay Happy, And Enjoy Life!
Today's Quote, comes from actor, artist, writer and comedian Steve Martin, "Writer's block is a fancy term made up by whiners so they can have an excuse to drink alcohol".