Finding the best pubs (and bars) in Willesden Green has been a challenge in the past as options (until recently), were somewhat limited.
I remember reading a review of Pubs in Willesden Green years ago and surprise, surprise that very review can still be found online to this day:
Drinking in Willesden Green is a bit like being cornered down an alley and being asked where you'd like to be hit. You'd choose a Chinese Burn over a Broken Nose any day…..
The review continues with some further colourful language and well placed anecdotes but you get the picture. Fortunately, things are not nearly as bad as they once were back in 2006 when that review was first penned.
There did used to be a decent amount of pubs in the area but many have long since closed to make way for housing developments. 
This is because much like nearby Kensal Rise, so too has Willesden Green seen a bit of gentrification creep within its boundaries. This has forced the area to undergo a bit of a resurgence in terms of development, local amenities and property prices.
As a direct result, Willesden Green high street has seen multiple upmarket housing projects take shape over recent years, and the local council promises there is more yet to come!
A knock-on effect of this is a demographic with a higher
disposable income and that in itself has resulted in new (or revamped) retail
outlets, restaurants, and hospitality venues. Naturally, this includes better
options when it comes to bars and PUBS in Willesden Green and the area that surrounds.
We (Shane and Mark) at Londons Pubs actually used to live (for many years) in this area, so we are well qualified to be writing this piece, and we certainly hope you enjoy our take on the Best Pubs in Willesden Green.
A London Pub For Every Occasion
The Queensbury Willesden Green
110 Walm Lane, Willesden Green, London, NW2 4RS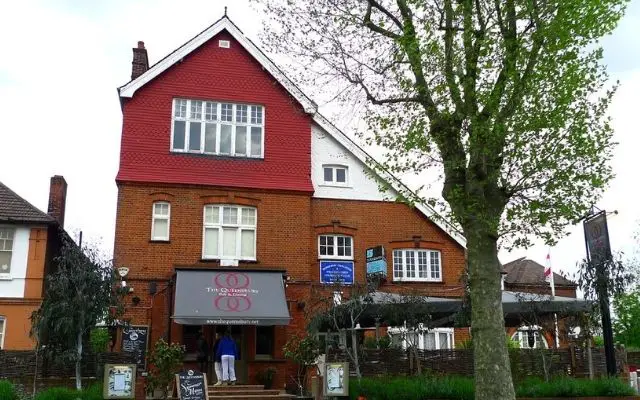 The Queensbury on Walm Lane, just opposite the Willesden Green Tube Station, offers a spacious interior of earthy browns and greens that has a warm comfy, homely feeling to it.
The long room that first greets the visitor immediately makes the venue feel like a friendly place and the eclectic wall paper and overall décor adds to that feeling. At the rear there is a cool dining room to cater for more formal seated affairs and its walls are adorned with a weird selection of mirrors that seem to enhance the space perfectly.
Outside they have recently installed an entirely covered front garden (which can be opened up in the summer) where you can easily spend a few hours having a drink with friends and watch the people passing by.
We have not eaten there recently but the burger sampled about a year ago there was excellent from memory so we will be revisiting to try some other options on the menu when possible.
The Queensbury has three or four hand pumps for ales, and several other beer taps providing lagers, ciders and craft beers aplenty. Overall this is probably the best range of beers in the area which is a bonus.
The pub always has something happening in terms of events and their Sunday Roast and Quiz nights are highly regarded.
EXTRA NOTE: The Queensbury in Willesden Green, whilst still standing in its current form (in 2020), looks to have become another victim of the areas development resurgence. Developers look to have secured the go ahead to redevelop the site into an apartment complex with a bar and function space on the ground floor. Obviously, The Queensbury owners will be offered first preference for any venue moving forward but only time will tell if they take up the offer when the building works begin. Watch this space and we'll update further as we get more information to hand.
 Check out The Queensbury Willesden Green via their social links below:
The Rising Sun Willesden Green
25 Harelsdon Road, Willesdon Green, London, NW10 2BY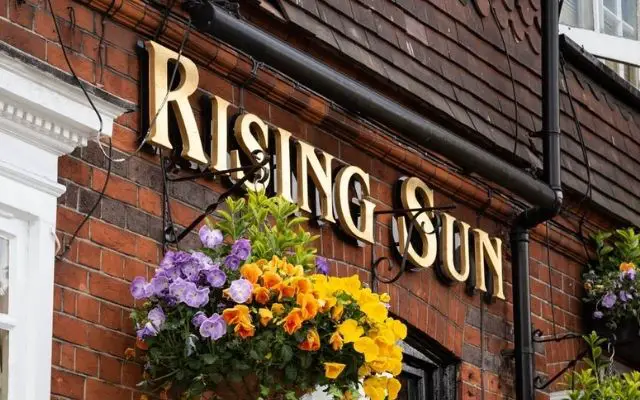 A Gastro Pub this is NOT!
But this newly revamped back street pub in Willesden Green is a friendly place for a drink with a large beer garden, a cozy bar and family owners that don't have to answer to the big players in Londons Pub market.
The Rising Sun is popular with the Irish community in the area so no hand pumps and real ales are featured here. Instead you'll find a couple of Guinness taps and a couple of Cider taps along with a few different lager varieties.
The pub has a pool table and dart board for those that enjoy pub gaming whilst whittling away an afternoon over a few pints. Bar snacks are available and they offer a fantastic BBQ in the beer garden every Saturday.
The pub was recently granted a new licence so moving forward they will again be able to offer live music afternoons/evenings, karaoke nights, as well as cater for functions and specific events in their dedicated available function space.
Once the domain of just "the lads", the Rising Sun in Willesden Green has certainly turned around to become a family affair that will likely remain at the heart of the community for years to come.
Check out the Rising Sun Willesden Green via their social links below:
Amazon Services LLC Associates Program
We are an affiliate in the Amazon program. As an affiliate, we earn from qualified purchases via links we place throughout our website. Purchases through our website cost you, the consumer, no more than if you had found the products directly on Amazon. However any purchases made through our website means we may receive a very small commission from Amazon for referring the sale. We also participate in other affiliate advertising programs to earn advertising revenue by linking to different websites.
305 High Road, Willesden Green, London, NW10 2JT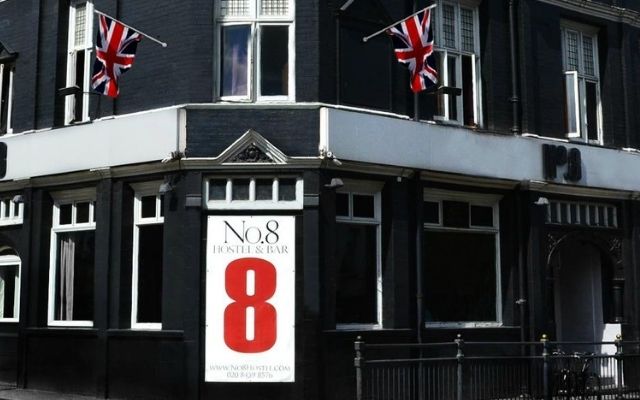 This used to be an Aussie themed pub called Ned Kelley's but has long since morphed into its current form of a traditional British Pub housed under a popular Backpacking Hostel.
Whilst you do need to be under a certain age to stay here in the hostel accommodation, there does not seem to be a restriction on visitors to the pub meaning enjoying a pint should be no problem.
As you can imagine with such a young demographic through the doors, No. 8 doesn't offer real ales but instead has a multitude of lagers to imbibe. Food is also something not offered as most people are guests and cooking for themselves in the hostel part of the establishment.
Actually part of a chain of three separate venues (all called No. 8) you can be sure that because of the hostel side of things that the pub attracts a younger crowd than most places in the area.
This is definitely a place for the young at heart and is an excellent option if visiting London for the purposes of sightseeing.
Two Doors Down Willesden Green
17 Walm Lane, Willesden Green, London, NW2 5SJ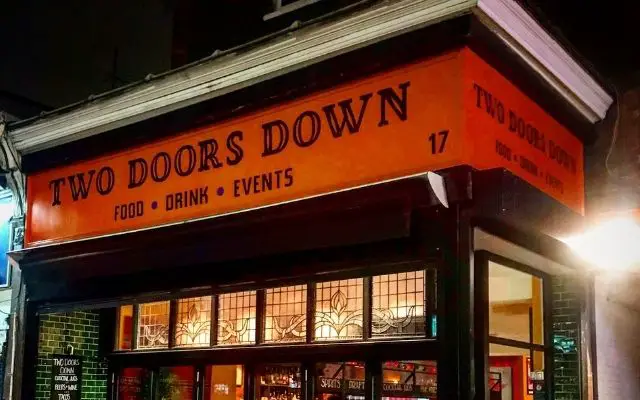 Whilst clearly a restaurant/bar and NOT a pub, Two Doors Down makes this list of best Pubs in Willesden Green easily for breathing some renewed life to the centre of Walm Lane in what was the shell of an old retail furniture shop.
These guys have created a warm welcoming community space ideal for meet-ups, parties and functions with a space space can accommodate up to 120 people.
This is a Tapas inspired venue that has friendly staff, really, really good food and a fantastic selection of cocktails also.
In terms of beers, when we visited, there were taps offering options from Suffolks Adnams Brewery as well as an international lager and some bottled beers as well. A good wine list complemented the place along with the aforementioned cocktails.
Two Doors Down actually offered a "Pub Quiz" on a Tuesday and live music and themed nights regularly and was fast becoming a locals favourite until Covid hit.
Here's hoping the venue will survive the pandemic as it's definitely boosted the vibe of the high street here in Willesden Green since its inception just a couple of short years ago.
Willesden Green Area and High Street
Willesden Green was at the centre of manufacturing for the war effort in World War 2, and the area attracted many workers from mainland Europe. 
To this day it still boasts one of the highest populations of Irish in London as well as large numbers of Caribbean and Latin Americans.
Whilst the Caribbean and the Latinos seemed to have forged the food scene in the area, it was definitely the Irish that stamped their authority on the pub and bar scene in Willesden Green.
Irish Pubs and Bars in Willesden Green
At last count there were five Irish Bars still operating in Willesden Green both near the Willesden Green Tube Station end of the area in the NW2 postcode and also all the way down almost into Neasdon in the NW10 postcode area.
Aside from the Rising Sun that we've visited and reviewed above we haven't really been able to get to these other bars but we've listed them below with contact information so you can explore these at your own pace.
1.       Angies 3 Willesden Green – 11 Walm Lane, Willesden Green, London, NW2 5SJ | Facebook: facebook.com/AngiesIII
2.       Mc Governs Willesden Green – 60 High Road, Willesden Green, London, NW10 2PU | Facebook: facebook.com/mcgoverns.willesden
3.       Tony's Bar Willesden Green – 356-360 High Road, Willesden, London, NW10 2EG | Website: tonysbar.co.uk | Twitter: twitter.com/tonyswillesden
4.       Moloneys Willesden Green – 429 High Road, Willesden, London, NW10 2JN | Facebook: facebook.com/moloneys.barwillesden
How To Get To Willesden Green
Getting To Willesden Green by Train: Willesden Green in on the Jubilee Line of the London Underground network and only thirty minutes from central London. In peak hours the Metropolitan Line trains also stop at Willesden Green Tube station.
Getting To Willesden Green By Bus: Bus numbers 98 – 260 – 266 – 460 – N98 and N266 service the area.
As always check with Transport For London before embarking on any public transport jaunt in London to ensure there are no station closures, cancellations or similar.
Pubs In Willesden Green Map Locations
Willesden Green Pubs Wrap-Up
Well, there you have it. Over the years Willesden Green has gone from many pubs (there was once eight pubs in the high street), to just a few pubs and bars the majority of which still have an Irish influence today.
Nevertheless, it is possible to find something to suit your drinking mood here in Willesden Green, although its considerably more difficult to find good food pubs with only the Queensbury and Two Doors Down fitting the bill on that front.
We hope you enjoyed our take on the best Pubs and Bars in Willesden Green. Perhaps if you find yourself in the area you might also want to check out our take on the Best Pubs in Kensal Rise, which is the neighbouring suburb just to the south of Willesden Green. And then there is our wrap-up of Pubs in Neasden which is just west of Willesden Green.
Do you have any favourite places to drink and dine in Willesden Green not mentioned in our blog? We'd love to hear from you if so. So please feel free to leave a comment below.
Thanks for joining us on this LondonsPubs.com journey. Stay Safe, Stay Happy, Enjoy Life!
Today's Quote, due to the Irish relation with the area of Willesden Green, comes from famous ex-footballer George Best "I spent 90% of my money on women and drink. The rest I just wasted."