Kensal Rise is home to a number of great pubs.
In years past, the Kensal Rise (and Kensal Green) area had limited choices for a (good) pint. However, as local development and gentrification of the area evolved, so too has the choice of pubs, restaurants and bars in Kensal Rise many of which are well worth a visit.
Situated in the London Borough of Brent Kensal Rise (includes parts of Kensal Green) is bordered by Willesden Green, Harlesden, Brondesbury, Ladbroke Grove, and Queens Park. In the past decade, Kensal Rise has well shrugged what used to be a somewhat shabby exterior, to become a neighbourhood of new fashionable boutiques and stores, local markets, green spaces, and of course some fabulous pubs.
Below is our take of what we here at Londons Pubs, believe are the Best Pubs in Kensal Rise.
We hope you enjoy the read and if you do please let us know by leaving a message in the comments section below this blog post.
The Chamberlayne Kensal Rise
83 Chamberlayne Road, Kensal Rise, London, NW10 3ND

Opened in 2007 and operated by the same group that runs the Salusbury Pub in nearby Queens Park, The Chamberlayne has developed into a chic Gastro Pub worthy of the attention it now garners.
Their menu specialises in fine beef cuts and they actually have their own butchers beef aging room where they dry hang their meat for 28 days as a minimum.
With a dozen or so beer taps serving lagers, ciders and craft beers as well as a couple of hand pumps, there is definitely a pint to be found here that will tickle your fancy so to speak.
The Chamberlayne offers outdoor street-side seating, a bar area at the front of the building, and a dining room in the rear. However, it's safe to say this is not a huge establishment. 
As a result, often at peak times and especially on weekends and in fairer weather, seating is at a premium, particularly if you wish to sit outdoors to 'people watch'. This is definitely one of the Pubs in Kensal Rise you'll want to tick off your list.
Check out the Chamberlayne Kensal Rise via their social links below:
64-66 Chamberlayne Road, Kensal Rise, London, NW10 3JJ
The Whippet Inn Pub with its all-weather beer garden and hip interior definitely reflects the personality of the local neighbourhood and surrounding communities.
This independent establishment on our list of Pubs in Kensal Rise, offers a quirky change from what we all know as a traditional style pub almost bordering on a bar/bistro really, but this certainly doesn't detract from its charm or from its appeal.
The Whippet boasts a menu showcasing modern seasonal options accompanied by some excellent craft beers and quality wines to match. Their Sunday roasts are particularly popular as is their Pub Quiz which occurs on Sunday evenings.
There is a wide range of beverages to choose from including a half dozen beer taps and wide selection of spirits including a plethora of different gin varieties.
Check out the Whippet Inn Kensal Rise via their social links below:
19 Kilburn Lane, Kensal Green, London, W10 4AE
Part pub, part nightclub, part restaurant but all FUN, the Paradise has been entertaining locals and visitors to Kensal Rise and Kensal Green for years.
Simply put, this is the place to go in the area if you like a bustling, vibrant and energetic crowd. There are many different spaces in this eclectic establishment, and whilst they are decked out differently they all feel connected. Religious artefacts, Edwardian styled rooms and a number of taxidermy fixtures make this pub quite unique not only in the area but in all of London.
With an award winning restaurant backed by a menu providing British and modern European styled food options dining here can be more of an experience than a place to simply satiate your hunger.
Drinks are really focused towards cocktails, wine and aromatics here but they do have a very decent selection of draught beers and there always a pale ale or IPA available which is a bonus in our opinion.
Simply known as Paradise the full name of this pub is actually the oddly suitable Paradise By Way of Kensal Green.
Check out the Paradise Kensal Rise via their social links below:
102 Chamberlayne Road, Kensal Rise, London, NW10 3JN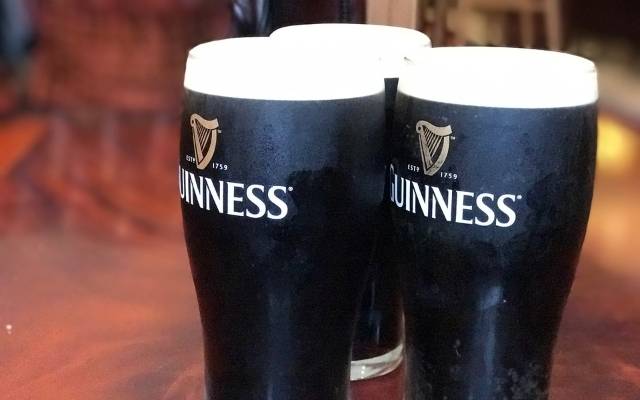 Maggies Bar is a fine example of what pubs used to be like 'in the old days', so to speak but this is not a detriment to the establishment, if anything it's a plus!
Located right next to the Kensal Rise Train Station, this is an Irish Pub of old. It's an unfussy and very simple watering hole in every way imaginable – there is no food, there is no craft beer, there are no real ales – but they serve a hell of a Guinness!
The television is perpetually on showing horse racing, Irish Football, Hurling and other similar sports and the bar usually has a smattering of regulars with whom you can attempt to engage in some witty banter.
If you want a gastro pub with fine food, cool tunes and craft beers then Maggies is not for you. However if you want a no-frills boozer that is the cheapest in Kensal Rise and you like a simpler straight forward no nonsense pub then this could be the place for you.
There are four beers on tap and a basic range of spirits. Don't embarrass yourself and ask for a cocktail menu!
Check Out Maggies Bar Kensal Rise via their one and ONLY link below:
123 College Road, Kensal Rise, London, NW10 5HA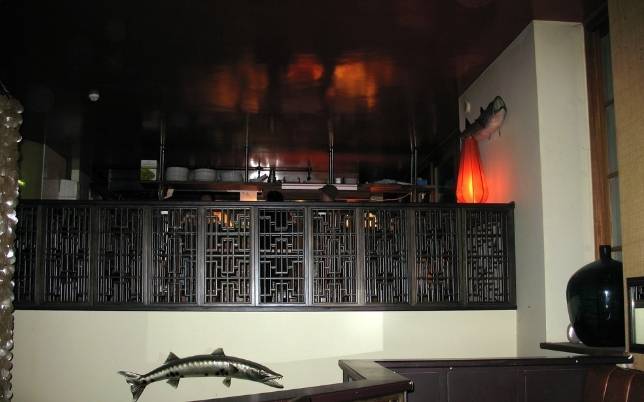 The Island is a local independent pub hidden away in the backstreets of Kensal Rise just a couple of blocks north of the Kensal Rise Train Station.
The pub was recently refurbished (in 2019) and is a very welcoming light space accommodated over three floors of a rather large square shaped building that seems oddly out of place in its surrounds. The shape of the building adds to its allure as does the ornate wood carved bar and polished wooden floored interior.
The chef here creates some amazing vegetarian and vegan food items making this place extremely popular with the ever increasing vegan orientated populous. They Island also sports a very good range of non-alcoholic drinks and an extensive wine cellar with tipples to suit all budgets.
As to beers they have a very healthy selection of draught served through more than a dozen taps and they also offer pump ales which are regularly rotated.
Whilst this place has a sort of energy that totally suits its local environment The Island is also a place to totally relax, making it very easy to whittle away a few hours comfortably.
Check out the Island Kensal Rise via their social links below:
The William IV in Kensal Rise
786 Harrow Road, Kensal Rise, London, NW10 5JX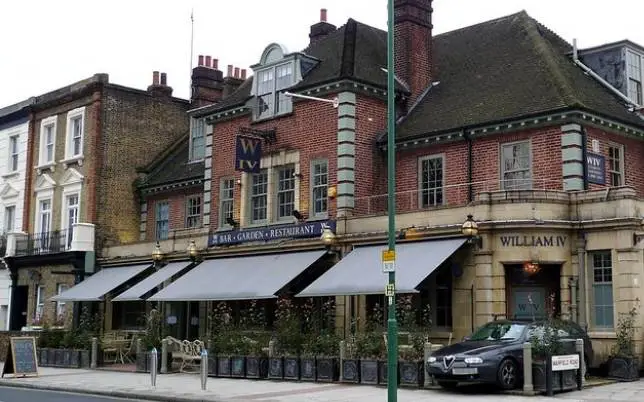 The William IV (and definitely not William the fourth) is one of the most historic pubs in the entire area and has been a prominent landmark here for centuries.
In homage to King William IV, the pub pays tribute to The Sailor King with its nautical themed open spaces and subtly positioned sailing accessories.
The food here is gastro for sure but it's pub classic gastro food like Fish and Chips, Shepherd's Pie,
and Chilli Con Carne. These guys also have a good selection of vegetarian and vegan options as well as a number of "small-plate" offerings.
There are no hand pumps or real ales here but instead six draught taps serving a selection of cold lagers, tasty pale ales and IPA's, and always a small batch cider of some sort.
Don't miss out on the outdoor beer garden in the warmer months, the huge roaring fire in the cooler weather, the public piano and occasional 'singalong' or their famous Gin Cabinet (it's actually a French Oak Armoire) with its fine selection of international and local gins.
This pub is also a guest house and has a number of tastefully decorated and very comfortable rooms that come highly recommended and highly reviewed.
This is a pub that subdues grandeur but definitely feels relaxed enough to enjoy a few pints and a good feed with friends.
Check out William IV Kensal Rise via their social links below:
Pubs in Kensal Rise | Walking Route
Shown below is an example walking route guide (from North to South) of the venues mentioned in this list of our favourite Pubs in Kensal Rise.
Anyway, there you have it, that's Londons Pubs take on the Best Pubs in Kensal Rise, all of which we're sure you'll enjoy visiting in the future.
What are your favourite places to drink and dine in Kensal Rise, why not let us know in the comments below?
There will no doubt be disagreements as to which of these establishments are actually in Kensal Rise and which are actually in Kensal Green but really, these two localities are so close that they are almost intertwined.
Personally, both Shane and Myself (Mark) – the Londons Pubs stalwarts, have frequented the area many times having cycled through the middle of Kensal Rise to and from work for many years, so in this instance we're giving ourselves the authority to make the choice here and we say that all of these pubs are in Kensal Rise (sorry Paradise).
Anyway folks we hope you enjoyed this blog about Pubs in Kensal Rise and thanks for joining us on this LondonsPubs.com journey. 
If you'd like to experience a similar journey with us then be sure to check out our guide to the best Pubs in Kings Cross.
Until next time, Stay Safe, Stay Happy, Enjoy Life!
Today's Quote comes from Hunter.S.Thompson: Good People Drink Good Beer